製品概要:
EC220はSDXCおよびUHS-Iに対応したExpressCard型のSDカードリーダです。
ExpressCard34もしくは54のスロットのあるノートPCに簡単にSDXC/UHS-I対応のSDカードスロットを追加できます。
仕様一覧

ExpressCard1.0準拠
PCI Express Base Specification 1.0準拠
SD Host Controller Standard Specification Ver 3.0対応
SD Memory Card Specification Ver 3.0準拠
Ultra Hight Speed Type 1 (UHS-I)対応


SDHS/SDR12/SDR25/SDR50/SDR104モード対応
最大SDカードクロック動作周波数: 200MHz

リコー製R5U220: 高い性能と互換性
Tuning Command対応
SDXC対応: 最大2TB
SDIO Card Specification 2.0対応
MMC MultiMediaCard Specification Ver 4.1対応
MMC PlusとMMC Mobileに対応(データ幅: 4bit)
SDカード最大動作消費電流: 800mAに対応
3.3V-1.8V SDA3.0 I/O電源コントローラ内蔵
Notice

To use SD / SDHC/ SDXC Cards on Windows XP/VISTA/7 your system requires install RICOH private driver for more compatibility (download here). Otherwise your SD cards can't work properly.
To use SD / SDHC / SDXC Memory Card Formatting Software, Please download file from SDCARD.org web-site as below:
http://www.sdcard.org/consumers/formatter_3/
Please backup your data before using the formatting program.
EC220 デザインの特長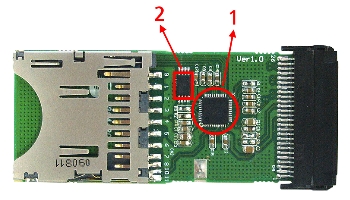 1. RICOH製R5U220コントローラ使用
2. 設定アップデート可能:シリアルROM搭載。
3. 高品質のPush-Push式SDカードコネクタ
4. ツライチ: USB3.0コネクタがノートPCからはみ出しません。
システム要求
ExpressCardスロットのあるノートPC
OS: Windows 7 (64/32ビット), Vista (32/64ビット) SP2以降
XWindows XP 32ビットSP3以降
EC220 Ver1.0
Evaluation Version: Ricoh_Media_Driver_v2.06.10.01
Model: HP ProBook 4421s
System : win7 32 bit Test Tools : DiskMark
CPU: intel(R)Core(TM)i5 CPU M 460 @ 2.53GHz 2.53GHz RAM : 4.00GB
Graphics card : ATI Mobility Radeon HD 5470

EC220 TEST

San Disk
Class 2 Micro SD
4GB

TOSHIBA
Class 10 SDHC
8GB

San Disk
UHS-1 SDXC
8GB

TOSHIBA
UHS-1 SDXC
64GB

Read (MB/S)

22.31 MB/S

22.27 MB/S

41.33 MB/S

60.73 MB/S

Write (MB/S)

6.488MB/S

18.63 MB/S

36.98 MB/S

36.64 MB/S

SanDisk Extreme Pro SDHC UHS-I
Test information provided by the Krzysztof Chodak, Mr.
EC220 同梱品一覧

EC220 (ExpressCard型 SDXC/UHS-I対応SDカードリーダ) x1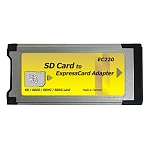 SPB087

SPB087
(ExpressCard 34 to 54 Bracket)
Unit price: US$ 2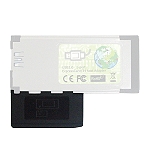 Notice:
SPB087 (Expersscard 34 to 54 bracket) is design for BPLUS own product. It may cannot install properly to other expresscard brand.